During rally exhibitions, the RENAULT 5 demonstrated that French car manufacturers knew how to build cars. It had taken time to sell them outside of France because of delays in adapting to foreign specifications. That's why at the end of the 1950's, Renault',s venture into the U.S. was unsuccessful.
The company thought it could flood the North American market with its DAUPHINE , but its engine had not been adjusted to North American cold winters and driving habits. It was faced with thousands of unsold units.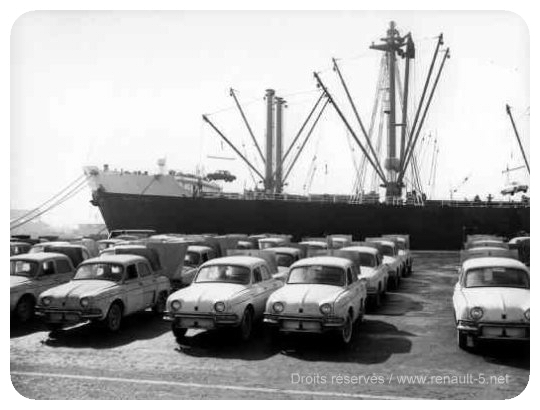 However, Pierre Dreyfus remained convinced that there was a place for RENAULT in the North American market.
During the mid-70's gas crisis, buyers turned to "Compacts". While RENAULT Inc. had a symbolic presence with its R12, 15 and 17 models, sales for 1975 totalled only 5493 units. Meanwhile the HONDA "CIVIC"(1) and the new Volkswagen "Rabbit"(2) were successful.
| | | |
| --- | --- | --- |
| (1) | | (2) |
On the "Big-Three" side, the new Chevrolet Chevette (3), an American version of the OPEL City, was well received by the public. Chrysler was preparing a "Sub Compact" and Ford was competing with its Fiesta model ( the BOBCAT) for 1977(4) .
| | | |
| --- | --- | --- |
| (3) | | (4) |
FRENCH CUISINE but AMERICAN TASTE
The U.S. Dollar's fluctuations in 1976, along with American Protectsionism led U.S. auto manufacturers to begin a campaign accusing European manufacturers with dumping. In spite of this, RENAULT chose October 23rd, 1975 to present its American version of the RENAULT 5 to the Press. It was introduced at the Silverado "country Club" in Napa California. The company flew in hundreds of journalists with their families on a special 747.
Paul Bocuse, the Famous French chef is here to prepare French food, "Foie Gras", French Wine...Paul Bocuse, the famous French chef, was there to prepare French food, i.e. "Foie Gras", French Wines etc.
Only two versions were launched (3 in France in 1976).
Unleades Fuel transformation, Speedometer in Miles, Specific windshield, doors could be locked from inside, Seat belt signal on dashbord and ringing, and more...
And Optional equipments Teinted glass windows, Rear wipper washer, SunRoof top, this last option is shown as an evidence on the very first leaflet.
Versatile, Exotic and Chic, that's the image the RENAULT 5 wants to get.
Le car entre en Scène...
Unfortunately sales were very poor. Consumers returned to "full-size" automobiles. In 1976, only 13,458 cars were sent to the U.S.
Only 9,673 RENAULT 5's were sold. By the end of September, another 7,782 cars remained in stock!
Le Mistake? Cars were not available to West Coast dealerships, especially in the large California market,, where people were traditionally more open to innovation. The car was not introduced at the L.A. AUTO EXPO which specialized in foreign imports.
Pierre Gazarian, director of publicity, changed it's advertising agency to Marsteller.
The new agency explained that the name "RENAULT FIVE"
had little meaning for the American consumer., who was not familiar with the rest of the Renault line.
They suggested a name change. Using the French article "Le". As in Le Voiture.
Le Car by Renault was created.
Like the French perfume, Chanel No 5 that was associated with Marylin's Image.
The 1977 campaign began with the French article. Introducing "Le Car"
was lauched. It was a new departure in advertising. Every term was a combination of French and English.
A new campaign was launched with a new step forward, every term had a French and English combination. "Les Features", "Le Performance", L'Economy", and " Le Fantastic Ride" (for comfort) and with "Le Price". ( reasonable).
Many combinations were created: " Le sport Car", " Le Weekend Car", "Le City car", "Le fun Car"... Even "Le Police car" was chosen by La Conner in Washington State as a patrol car. Two versions were called Le Car GTL Deluxe and Le Car GTL Basic.
Sales were good in February 1977 with 862 sold. March 1977 at 1377 and April
with 2503. It doubled to 12,645 units by the end of the year.
Le Car sales in the US stopped in March 1983. Canadian sales of the 2 doors coupe remained until 1985.